Spring Break: March 22nd – 26th
Enjoy Spring Break with these engaging science day camps! Each day has its own theme of hands-on activities and includes plenty of outdoor exploration time. Choose the days that work for you.
Please send a lunch and water bottle with your camper, and ensure they are dressed for outdoor play in any weather.
Spring Break Day Camp Themes:
Monday: Kitchen Chemistry
Tuesday: Science of Slime
Wednesday: Weather Wonders
Thursday: Astronomy Adventures
Friday: Animal Adaptations
Drop-Off: 8:30-9:00am
Pick-Up: 4:00-4:30pm
Pricing: $60/ day ($55 for members)
Eugene Science Center offers several programs to support students and families during the COVID-19 pandemic. We closed our doors in March to public visitation, following the governor's executive order to shut down interactive museums. Our facility has transitioned into an academic child care center for 1st-5th grade students. We are approved by the state to operate as an emergency child care center and have successfully offered safe and engaging youth opportunities since June. If you have questions about our programs, please do not hesitate to contact us.
Flexible Schedule:
Sign up for the days that work for you.
Morning Academic Support is offered Monday – Friday, from 8:30am – 12:00pm. Extended care from 8:00am – 12:30pm is included at no additional cost.
No School Day Workshops are offered on mornings when schools are closed.
STEM Discovery camps are offered Monday – Friday, from 1:00 – 4:30pm. Extended care from 12:30 – 5:00pm is included at no additional cost.
Pricing: $40 per session*
*Members of Eugene Science Center receive $5 off each session.
Register for 4 sessions at once and receive an additional $15 off your purchase total.
*We also accept ERDC subsidies from families receiving child care assistance from ODHS. Your family may be eligible to receive child care assistance during the COVID-19 pandemic.
*In partnership with NAACP, scholarships are available to BIPOC students. Email [email protected] or leave a voicemail at 541-682-7888 to inquire. Click here to fill out the NAACP scholarship application.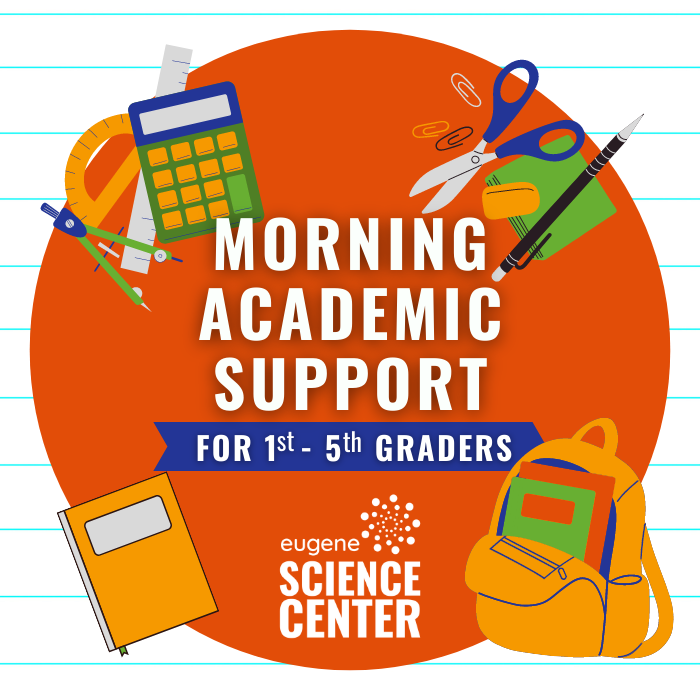 Morning Academic Support for Distance Learners
Registration currently open through end of March 2021.
We offer morning child care for 1st – 5th grade students in distance learning programs. Our staff educators will assist your student with online school work and provide engaging breaks between school activities.
This is not a science camp and is only recommended for students who will spend most of their morning in online distance learning. Students should bring from home their school-provided tablet or laptop, headphones with a microphone, and any other school supplies they may need for the day. Students should also bring a packed lunch and water bottle.
Drop-Off is from 8:00am – 8:30am. Pick-up is from 12:00pm to 12:30pm, unless your child is also registered for the afternoon STEM Discovery Camp.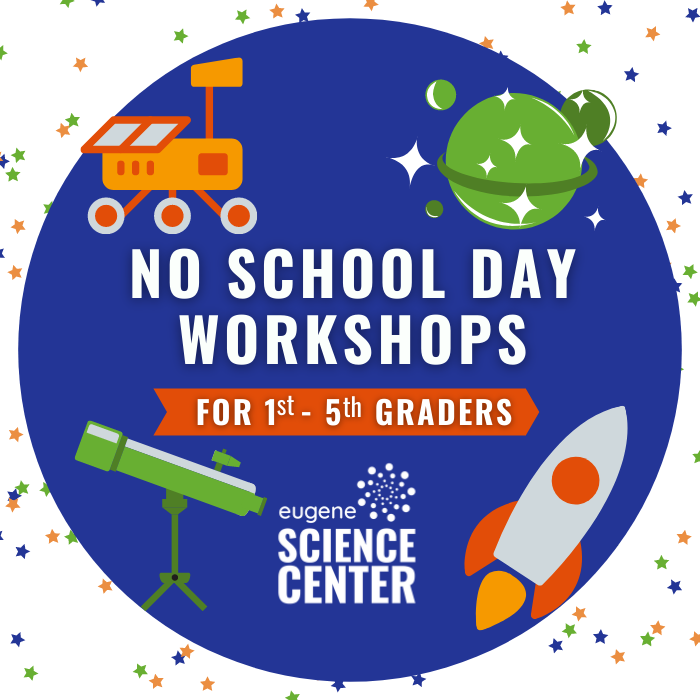 Morning No School Day Workshops
Upcoming Dates:
Wednesday Mornings in February (Springfield no school days)
Enjoy the day off from school with science fun! These morning workshops are offered when local schools are closed. Our staff educators lead fun and engaging STEM activities for students when school isn't in session.
Looking for full day care on No School Days? Register for afternoon STEM Discovery Camps for these dates to extend your workshop until 5:00pm.
Times: 8:30am – 12:00pm
Drop-off: 8:00 – 8:30am
Pick-up: 12:00 -12:30pm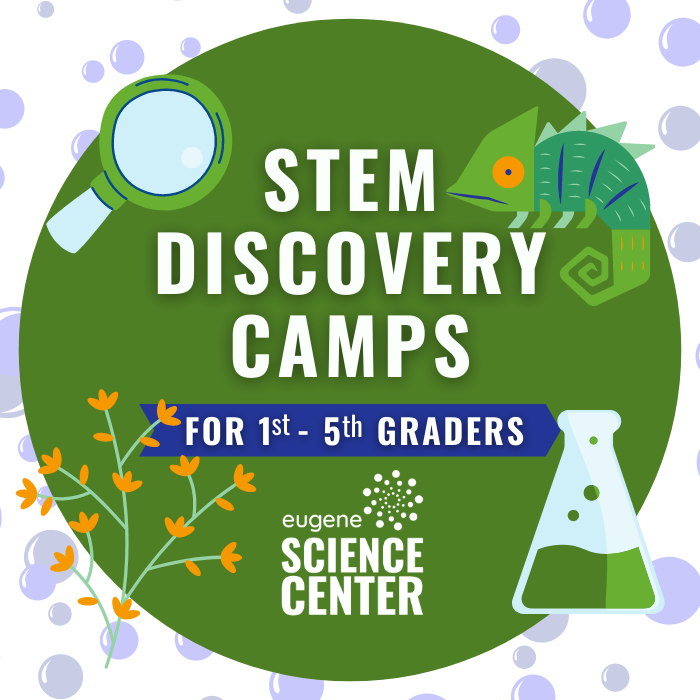 Afternoon STEM Discovery Camps
Registration currently open through end of March 2021.
Curiosity, engaged!
Our STEM programs bring out the scientist in every child. Staff educators tune in to the unique needs, skills, and interests of their students to create an engaging and inclusive learning environment. These half-day camps incorporate indoor activities and outdoor adventures as a complement to your student's regular education. We make learning fun, and our programs inspire a life-long respect for scientific thinking.
Each half day camp features new STEM activities – no two days are the same! Examples of activities include coding challenges, nature hikes, chemistry experiments, and designing a flying machine!
Afternoon STEM Discovery camps are not meant to take the place of distance learning. While we can accommodate the needs of students who need to join synchronous distance learning meetings for school, the purpose of these afternoon programs is to provide fun educational opportunities after online school work is complete. Camps will include hands-on STEM activities and games, both indoors and outdoors, for elementary age students. 
We are following all state guidelines for disease prevention. To learn more about COVID-19 policies, download the Parent Information Letter.