COVID-19 HEALTH AND SAFETY
We are committed to keeping our guests, employees, volunteers, and extended community informed and prepared regarding COVID-19 (coronavirus), and we'll respond quickly to local government recommendations, guidance, and direction. As the situation is rapidly changing, please visit our COVID-19 page for the latest updates.
Grades K – 5
9:00 am – 4:00 pm*
On select no-school days, kids put their creative minds to work exploring different aspects of STEM (Science, Technology, Engineering, and Math) during these engaging, hands-on single day workshops.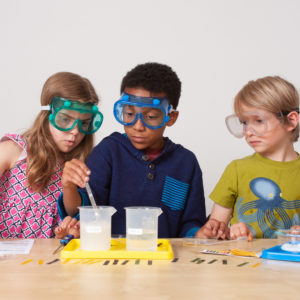 Pricing:
Members: $40
Non-Members: $45
*Extended Care Available:
Early Care (8 – 9am): $5
Late Care (4 – 5 pm): $5
Limited need-based scholarships are available. Complete this form to request a scholarship.
Cancellation Policy
Cancellations made at least one week prior to the start of a program are eligible for a full refund or credit, minus a $5.00 cancellation fee per child. Cancellations after that are eligible for a 50% refund or credit. No refund or credit will be given if a cancellation is made on the day of the program or later.
COVID-19 Temporary Update to Cancellation Policy

Please keep your child home if they are sick with fever and/or cold or flu symptoms. Students with acute respiratory illness should not attend Eugene Science Center programs until they are free of fever and other symptoms for at least 24 hours, without the use of fever-reducing or other symptom-altering medicines. Whether it is the flu, COVID-19, or even the common cold, we want to limit germ exposure as best we can.

If your child is ill, keep them at home. Children showing cold- or flu-like symptoms while attending a Eugene Science Center camp or workshop will be immediately sent home with no refund.
If your child is ill on the day of the program and you keep them at home, you may request a credit to be used toward a future Eugene Science Center program. This is a temporary policy to encourage public health safety. Further questions regarding sick policies may be sent to [email protected].
Note: For second graders, you may choose an age group during registration (k-2nd or 2nd-5th).  This is so you may choose a group of younger or older peers for your learner based on your own assessment and preference.
Upcoming Workshops
March 26, 2020: We have temporarily paused all registration for No School Day workshops. If we are able offer the program before it's final date of May 25th, we will reach out to regular attendees and reopen online registration as soon as possible.
2019-2020 School Year Workshops
Take a sneak peak at the dates and themes for all No School Day, Winter Break, and Spring Break workshops we are offering this school year. 
We are offering workshops on most school breaks for Eugene 4J, Bethel, and Springfield School Districts. Reference your school district calendar to find out which dates meet your needs, as these dates can differ by district.
For Early Release Day Workshops, or No School Days not found on this page, check out our Science After School Program.
Thursday, October 10th: Ecology
Friday, October 11th: NO PROGRAM, MUSEUM CLOSED
Thursday, November 7th: Extreme Experiments
Friday, November 8th: Mad Science
Monday, November 11th (Veteran's Day): Engineering (K-1st) and Scratch Coding (2nd-5th)
Wednesday, December 4th: Extreme Experiments
Thursday, December 5th: Mad Science
Monday, December 23rd: Icy Science
Thursday, December 26th: Zoology
Friday, December 27th: Molecular Biology
Monday, December 30th: Marine Science
Thursday, January 2nd: Prehistoric Science
Monday, January 6th: Astronomy
Monday, January 20th (MLK Day): Mythbusters!
Friday, January 31st: Earth Heroes
Monday, February, 17th (Presidents' Day): Energy
Friday, March 13th: Science Magic
Monday, March 23rd: Science of Slime
Tuesday, March 24th: Weather
Wednesday, March 25th: Engineering
Thursday, March 26th: Meteorology
Friday, March 27th: Entomology
Friday, April 10th: Astronomy
Monday, May 25th (Memorial Day): Habitat Hike!
Potential add-on dates: June 12, June 15-19 – please email [email protected] to indicate interest in a program on these dates.