Dome Show of the Week: June 26 – July 2
Showing daily at 2pm and 4pm during the week of June 26 – July 2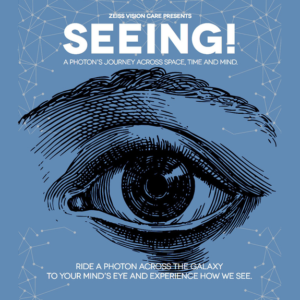 25 minutes | Recommended for ages 8+

Narrated by Neil deGrasse Tyson, this planetarium show investigates how our eyes and brain allow us to see the world around us. Follow a photon from its creation in the core of a distant star to its journey across the galaxy into a young stargazer's eye. Then, follow the photon through the various structures of the eyeball and finally along the optic nerve into the brain.
Please note: all planetarium shows start on time and no late seating is permitted. Our show schedule is subject to change. We recommend checking our calendar before your visit for the most up-to-date schedule. Click here for planetarium admission prices and more info. 
More about Dome Show of the Week: Our Dome Show of the Week is a rotating selection of planetarium shows. This summer, the Dome Show of the Week is FREE for Eugene Science Center members! Come back each week to see them all.
2022 Dome Show Of The Week Lineup:
June 20-25: Skywatchers of Africa
June 26 – July 2: Seeing!
July 3-9: We Are Aliens
July 10-16: Out There – The Quest for Extrasolar Planets
July 17-23: Sunstruck
July 24-30: Habitat Earth
July 31 – August 6: Phantom of the Universe
August 7-13: Earth, Moon, & Sun
August 14-20: Einstein's Gravity Playlist
August 21-27: Our Violent Planet
August 26 – September 3: Two Small Pieces of Glass