COVID-19 & BIRTHDAYS
Birthday party availability is subject to change based on the local COVID-19 situation and staffing. Fill out the booking interest form or  contact us for more information.
Available Time Slots
We book birthday parties as early as 3 months in advance.
If you have a special party in mind, it is better to book early! We require a minimum of 7 days notice to book a hosted birthday party.
Fridays
Choose an educator-hosted or non-hosted experience:
2:00 – 4:00 pm or 5:00 – 7:00 pm
Saturdays and Sundays
Party with educator-hosted experience:
10:30 am – 12:30 pm  or  3:00 – 5:00 pm
Party without hosted experience:
11:00 am – 1:00 pm or 2:00 pm – 4:00 pm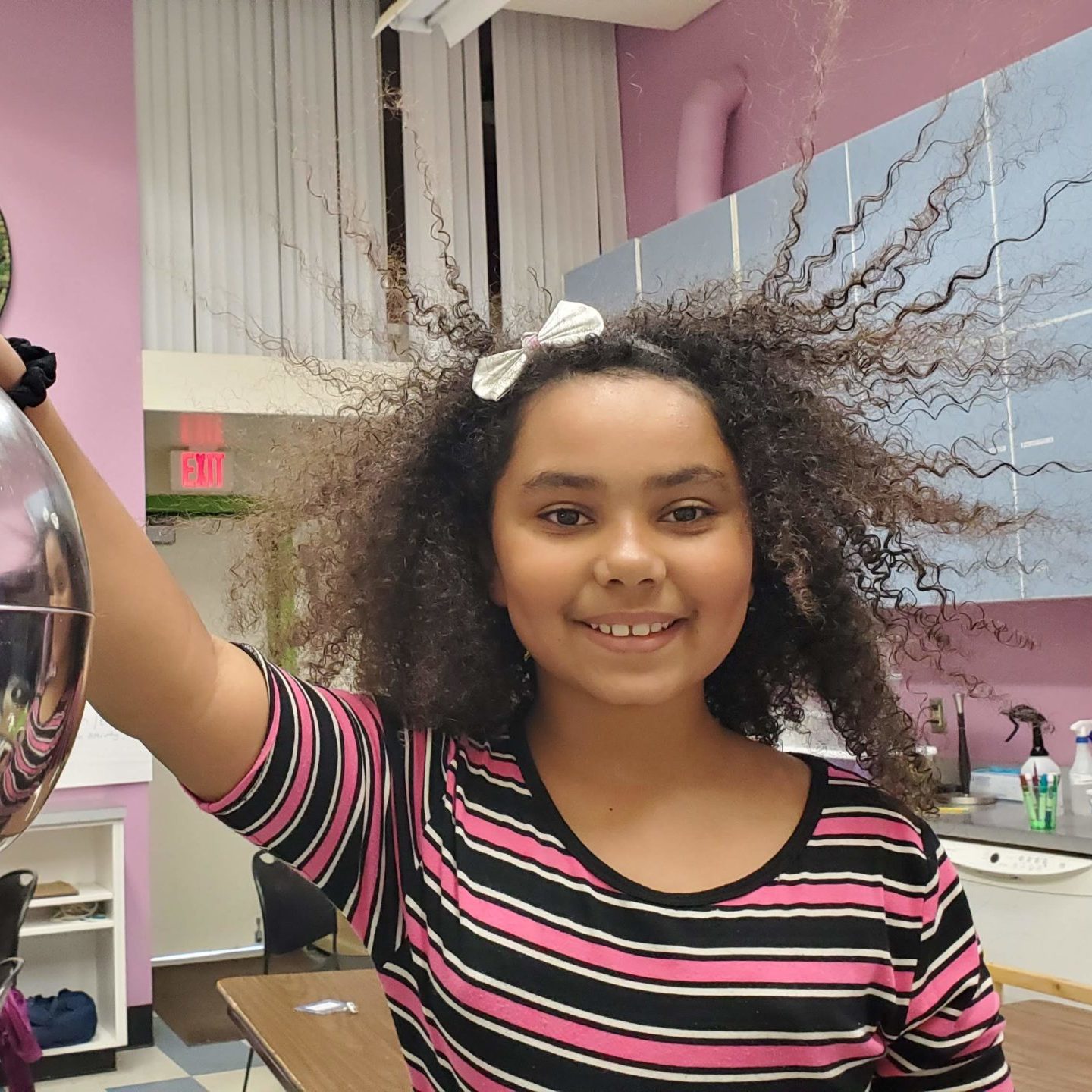 Party Packages
Each party includes:
Private Party Room (2hrs)
Exhibit Hall Playtime
Special Gift for Birthday Child
You're Invited!

Print your own Science Birthday Party Invitations!
Party with Educator-hosted experience
$150 ($135 for members)
price includes 10 kids
Two hour party rental of our Birthday Room.
Museum Exhibit Hall admission for up to 10 kids.
Thirty minute science activity hosted by a Science Center Educator. Choose from one of our many themed activities, described below.
Additional children beyond 10 who attend the birthday are $5.00 each. Hosted activities are designed for a maximum of 16 participating kids. If more than 16 kids are participating, the educator may choose to modify the activity for a larger group.
Additional adults or others beyond the 20-person cap will pay regular Exhibit Hall admission ($5).
Party without hosted experience
$100 ($90 for members)
price includes 20 people
Two hour party rental of our Community Room.
Museum Exhibit Hall admission for up to 20 people total.
Additional adults or children will pay regular Exhibit Hall admission ($5).
Add-On Planetarium Show
Join a public showing of a planetarium show for $3 per person.
Parties attending planetarium shows must have at least 1 adult for every 5 children.
Party Guidelines
We require a minimum ratio of 1 adult for every 7 children in attendance. Adults are responsible for supervising all party guests in the exhibit hall and planetarium.
Our birthday party room accommodates a maximum of 24 people according to fire code. Guests are expected to adhere to this limit; guidelines will be given at the time of registration. For parties expecting more than 30 people total, we strongly encourage you to consider an after-hours rental of the museum.
Memberships can be purchased here.
Payment must be received 7 days prior to birthday party or event will be cancelled.
Birthday Party Activities
We have birthday parties down to a science!
Blast Off!
3, 2, 1 …. BLAST OFF! Design and launch your own paper rocket. Using just the power of air pressure, you'll be amazed at just how high they go! 
Best for ages 6 and up. This activity takes place outdoors; please select one of our other parties as an alternative in case of inclement weather.
Brilliant Biology
DNA is the code in every living cell that leads to life as we know it. In this party, you'll attempt to extract DNA from fruits, vegetables, or even your own cells! Guests will get their very own sample of DNA to take home.
Best for ages 7 and older.
Bubbles Galore
Have some soapy science fun with our Bubbles Galore party! Choose from a variety of bubble activities, including bubble art, soapy snakes, and geometric bubbles. Every Bubbles Galore party ends with a demonstration of super-cool, super-spooky dry ice smoke bubbles!
Great for all ages. This party can get messy!
Extreme Experiments
Fizz, bubble, ooze, or pop? Select from an array of amazing mind-boggling experiments that explore physics and chemistry concepts. Create instant polymer worms, glowing slime, soda-pop geysers, elephant toothpaste, and more.
Great for ages 5 and up. This party can get messy!
High-Flying Fun
Fasten your seatbelts and get ready for takeoff! Guests learn about the forces of flight and build their very own flying contraptions to test in our vertical wind tunnel.
Best for ages 5 and older.