Your parking pass purchase supports the Eugene Science Center's educational programs as well as other community organizations including the Eugene Elks Lodge #357, ATA Team Pride in Cottage Grove, the Eugene Active 20-30 Club and the City of Eugene Department of Parks and Open Space.
Benefits
Easy walking access to Autzen Stadium
Guaranteed spot, regardless of arrival time
Family membership to the Eugene Science Center (which includes membership to the ASTC passport program) with purchase of season pass
10% discount for University of Oregon Alumni Association members.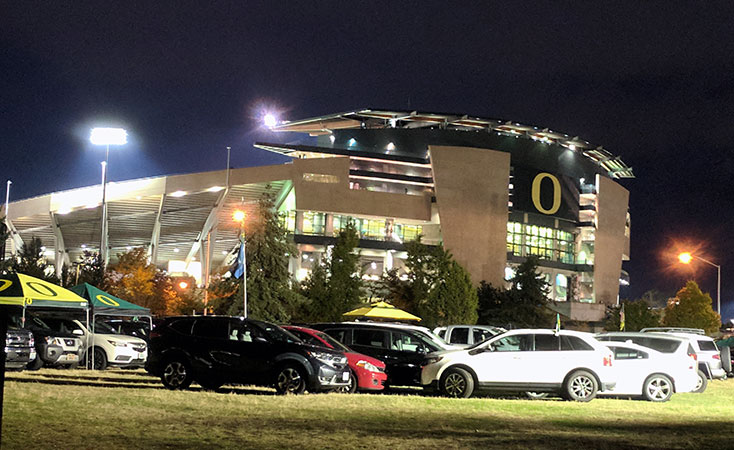 Locations
Eugene Science Center manages three parking lots located adjacent to Autzen Stadium, as shown on the map below.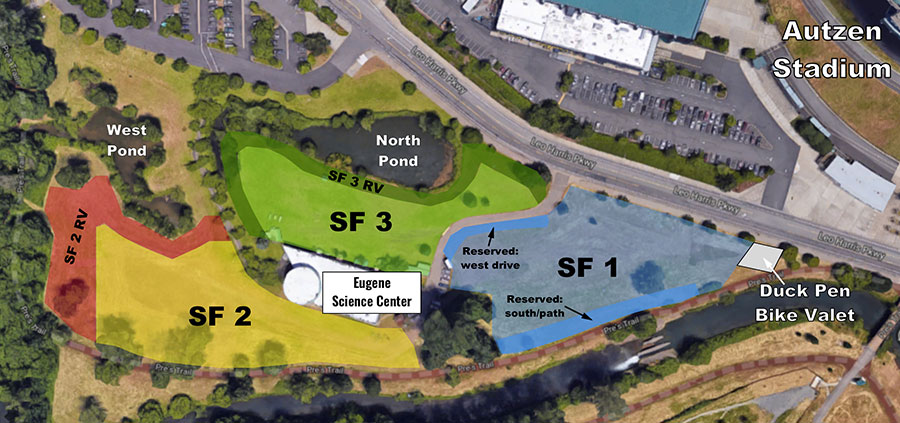 Rules & Information
Eugene Science Center works closely with: the City of Eugene Police, Fire, and Parks Departments; Oregon Liquor Control Commission; the University of Oregon Athletic and Police Departments; Lane Transit District; and other agencies to ensure safety, compliance with laws and regulations, and to provide the best parking program available.  All parking guests are required to observe the rules and conditions for parking in Eugene Science Center-managed lots.
PLEASE NOTE: All Eugene city parks are smoke-free.
2018 Parking Lot Rules are available here.
JULY 2018 UPDATE: We plan to follow the new parking lot opening schedule that UO/Autzen will use this fall: Lots will open 6 hours prior to kickoff, but never earlier than 7 a.m.
2018 season parking passes were mailed out August 20-22.
Single Game Passes
Advance Purchase
Deadline: Noon on Friday prior to game day
Pay in advance to guarantee your spot! Availability varies by lot and by game.
Cars: $80
RVs: $110-125 (no overnight parking)
Call Kim Miller at 541-682-7896 to purchase your pass.
Day of Game
Standard-sized vehicles only (No RV or oversized)
Any remaining inventory of car spaces in ESC lots will be available for purchase when our parking lots open on the day of the game. Availability will vary by lot. Passes are sold on a first come, first served basis. Lots open six hours prior to kick-off (but never before 7 am).
Cars: $40, CASH ONLY

NEW! Make your tailgate easy!
We are pleased to announce our partnership with
Tailgater Concierge
for the 2018 Oregon Ducks football season.  Tailgater Concierge provides premium pre-game tailgate packages to groups of all sizes in parking lot SF2.  Packages include tents, tables, chairs, and coolers with ice, along with optional upgrades like BBQs, satellite televisions, and tailgate games.  They take care of all set up and clean up so all you'll have to do is show up and have fun!