UPDATE
JUNE 1, 2021
We are cautiously optimistic that tailgate parking will be allowed in the Fall 2021 and so we are moving forward with selling season parking passes once again. We do so with the understanding that our regular game day operating practices may be modified this season.
There are still many unknowns about what tailgate parking will look like and we want to be upfront about what we cannot guarantee this year relating to your parking pass purchase. At this time, we cannot guarantee that there will be space available in the ESC parking area you choose due to the possibility of reduced parking capacity. We cannot guarantee what time parking lots will be available on game day. We cannot guarantee that tailgating will be allowed in parking areas or what restrictions and guidelines will apply to tailgating.
What we can guarantee is that we will do our best to meet your needs while also complying with health guidelines from the State of Oregon, Lane County, City of Eugene, and University of Oregon. Should things not work out as planned, you will have the option to cancel your parking pass and request a refund of your payment.
Scroll down for more information about parking areas and how to purchase a parking pass for 2021.
For those who purchased season passes for 2020:
Your 2020 season pass payment has been automatically be applied to the 2021 season. You do not need to do anything else to reserve your pass – it is already in our database.  However – if you moved since you purchased the pass in early 2020, please let us know your new address so that we can mail the pass to the right place!
For additional information or if you have questions, please contact Kim at 541-682-7896, or [email protected]
Your parking pass purchase supports the Eugene Science Center's educational programs as well as other community organizations including the Eugene Elks Lodge #357, ATA Team Pride in Cottage Grove, the Eugene Active 20-30 Club and the City of Eugene Department of Parks and Open Space.
Benefits
Easy walking access to Autzen Stadium
Guaranteed spot, regardless of arrival time
Family membership to the Eugene Science Center (which includes membership to the ASTC passport program) with purchase of season pass
10% discount for University of Oregon Alumni Association members.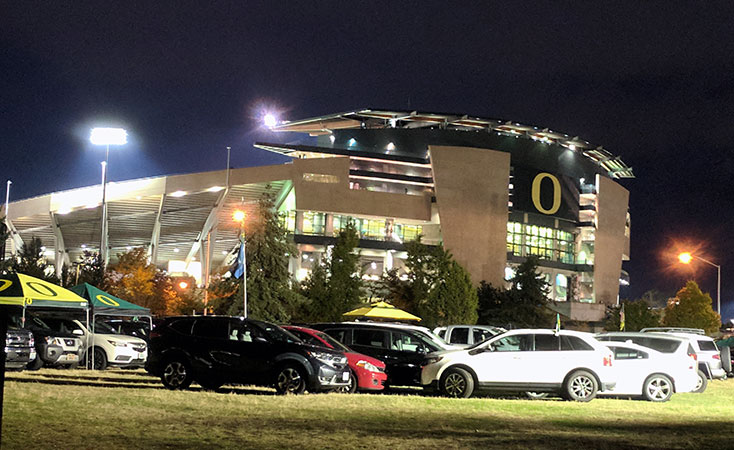 Locations
Eugene Science Center manages three parking lots located adjacent to Autzen Stadium, as shown on the map below.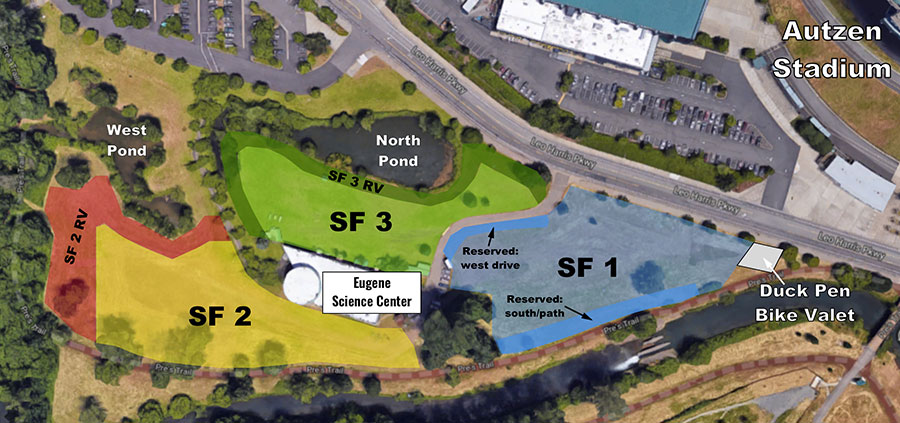 Rules & Information
Eugene Science Center works closely with: the City of Eugene Police, Fire, and Parks Departments; Oregon Liquor Control Commission; the University of Oregon Athletic and Police Departments; Lane Transit District; and other agencies to ensure safety, compliance with laws and regulations, and to provide the best parking program available.  All parking guests are required to observe the rules and conditions for parking in Eugene Science Center-managed lots. Read the 2019 rules here.
Note that the rules for 2021 will be modified in accordance with the health guidelines in place when games are held. Eugene Science Center will follow guidelines determined by the State of Oregon, Lane County, City of Eugene, and University of Oregon and will require all parking patrons to follow these rules and guidelines.
PLEASE NOTE: All Eugene city parks are smoke-free.
SEASON PASS PRICING
A season is defined as all regular season home games of the University of Oregon football team played at Autzen Stadium. The Spring Game is not considered part of the regular season.
Your parking pass will be sent in the mail. Protect your pass – it is the only way you will be allowed into the lots on game day. Replacement passes will incur a $50 replacement fee.
Best Rate:
valid through June 30,
or UO Alumni Assoc. Member
Full Rate:
July 1 or Later
SF 1 Car
$470
$525
SF 1 Car Reserved: South Path **SOLD OUT**
$575
$635
SF 1 Car Reserved: West Drive **SOLD OUT**
$575
$635
SF 2 Car
$470
$525
SF 3 Car
$470
$525
SF 2 RV (length <30ft)
$670
$740
SF 2 RV (length 30-40ft)
$720
$800
SF 3 RV (length <30ft) ** SOLD OUT**
$670
$740
SF 3 RV (length 30-40ft) **SOLD OUT**
$720
$800
Purchase Your Parking Pass
SEASON PASSES
PURCHASE ONLINE (Cars/regular vehicles only):

SF1 Reserved Areas (see map above): SOLD OUT
For SF1 regular, SF2, and SF3 car passes: This link is for

regular car passes

.
Oversized vehicles: RVs, vehicles with trailers, cargo vans, sprinter vans, etc,: please call or send in the form (online purchase is not available). You can also request an email invoice that can be paid online with a credit card.
The parking registration form is available for download by clicking the button below.
SUBMIT FORM & PAYMENT BY MAIL:
Eugene Science Center
2300 Leo Harris Parkway
Eugene, OR  97401
SUBMIT FORM & PAYMENT BY FAX: 541-484-9027
PAY WITH CREDIT CARD BY PHONE or INVOICE:
Call 541-682-7896; Visa, Mastercard, Discover, American Express accepted.
NEW: Receive an email invoice and pay online with a credit card. Call 541-682-7896 for details.
PAY WITH CASH:
Cash payments can be completed at Eugene Science Center **by scheduled appointment.** We are not open to the public at this time.
Single Game Passes
If our parking areas do not sell out with season pass sales, single game advance passes will be available for purchase, typically starting in August. Availability will vary by lot and by game. General information about single game passes is below.
Advance Purchase
Deadline: Noon on Friday prior to game day
Pay in advance to guarantee your spot! Availability varies by lot and by game.
Cars: $80
RVs: $110-125 (no overnight parking)
Single game pass sales typically start in August.
Day of Game
Standard-sized vehicles only (No RV or oversized)
Any remaining inventory of car spaces in ESC lots will be available for purchase when our parking lots open on the day of the game. Availability will vary by lot. Passes are sold on a first come, first served basis. Lots open six hours prior to kick-off (but never before 7 am).
Cars: $40, CASH ONLY