TOT DISCOVERY DAYS
FIRST FRIDAY OF EACH MONTH
9:00AM – NOON  |  AGES 0-5
Tot Day Admission includes complimentary Planetarium programs at 10:00, 10:30, or 11:00am
Each month we set up activities and interactive learning stations designed to create an experience that will ignite your child's curiosity and interest in science.  Tot Discovery Days are casual, drop-in programs when our youngest visitors can enjoy Eugene Science Center activities "big-kid-free." We open one hour early, just for Tot Day, before the general public can explore the science center.
Limited to children ages 5 and younger, accompanied by a parent or guardian. Siblings who are not the appropriate age for these activities will not be allowed into the activity areas at this time. A named member must be present to receive membership benefits.
Advance registration not required.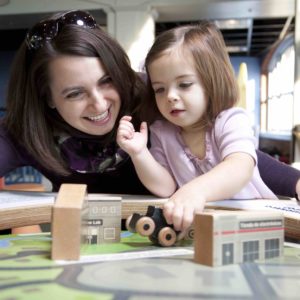 Tot Discovery Day Pricing:
Eugene Science Center Members: FREE
Non-Members, Ages 1-61: $6.00 each
Non-Members, Ages 61+: $5.00 each
Infants 0-12 months: FREE
Tot Discovery Day admission is discounted from regular combo admission pricing and includes hands-on activities just for you and your Tot. Save money on multiple Tot Day visits by becoming a member.
Tot Discovery Days are now included in our Museums For All program.
UPCOMING TOT DISCOVERY DAYS:
June 5th: VIRTUAL Tot Discovery Day
Water, Water, Everywhere!
Join us from home for a very special virtual Tot Discovery Day. We've prepared 4 activities you can try from home, as well as a special planetarium presentation. Our educators will demonstrate how to turn household materials into fun science activities for your tot!
We've provided a list of materials you can gather in advance and then follow along at home during a live recording – streaming on facebook live this Friday at 11:00am. Can't find the suggested materials? Some are easily substituted with similar items you already have.
After the live event, we will post written instructions online for each of the activities. The live recording will also be available to view after the event.
You can share photos or videos of your experiments with other families on the facebook event page or using #eugenesciencecenter.
Water, Water Everywhere! Instructions
Water Absorption Experiment:
Place your materials on a flat surface. 

Color a container of water with food coloring. 

Talk about each of the materials on the table. What are each of them? Are they soft, scratchy smooth? 

Tell your tot some of the materials will soak up (absorb) water and some will not. You can also describe what kinds of materials absorb water and which do not. 

 Ask your tot which materials they think might absorb water and which ones won't. You can do this all at once or ask them about each individual item. 

Now you can test each item. You can use a dropper (if you have one) and place a few or as much water as you want on the surface, or you can pour some water on the flat surface and test them by trying to pick up the water.
Disappearing Cotton Candy Experiment:
Set up your materials on a flat surface. 

We are filling a margarita glass to the brim with water. You can use any shallow container and fill water to the brim. 

In the experiment above you explored materials that absorb water. Now we explore things water can absorb or dissolve.. Discuss this with your tot. The experiment is to see how much cotton candy the water will absorb without overflowing. 

Have your tot look at the container of water, ask your tot if they can tell if the water is at the brim or not. Ask them if they think ALL of the cotton candy in front of you all will fit in the container of water without it overflowing? 

It is time to test. Tear the cotton candy into pieces. 

Gently place the pieces into the water. 

What happens? Did you use it all? Did the container overflow? 
Leak Proof Bag Experiment:
Set up materials on a flat surface. 

Fill the freezer bag with water. It does not have to be totally full. Just make sure the bag can be closed and sealed. 

Show your tot the bag is sealed and no water is leaking out. 

Now ask your tot if they think if a pencil is poked all the way through the bag, what will happen to the water. You can explain that holes are being poked in the bag. 

Take a pencil and poke it into the bag passing all the way through the water and out the other side of the bag all in one motion. 

What happens? 

Try it with two or three more pencils. 

What happens? 

Now pull the pencils out……. 

Water water everywhere! 
Skittles Experiment:
Place materials on a flat surface. 

Place skittles in any pattern of colors you and your tot would like in a circle around the edge of the plate. 

You can try patterns of different colors or just random but there should be an alternation of colors. 

Gently pour water into the center of the plate until it reaches the Skittles and barely covers them.

Watch what happens, are the colors mixing? 

Try not to move the plate or surface you are working on. 

After a few minutes you can gently move the plate around if you all want to see if you can get the colors to mix.  
Ping Pong Float: 
Turn on the hose, not too much, you only need a steady stream of water. In this experiment the hose can be held or propped up in a way so that the stream of water is going up into the air. 

Ask your tot if they think the ping pong ball can float on the stream of water.

Place the ping pall on the stream of water.

What happens?

You can also do this with other small spherical objects.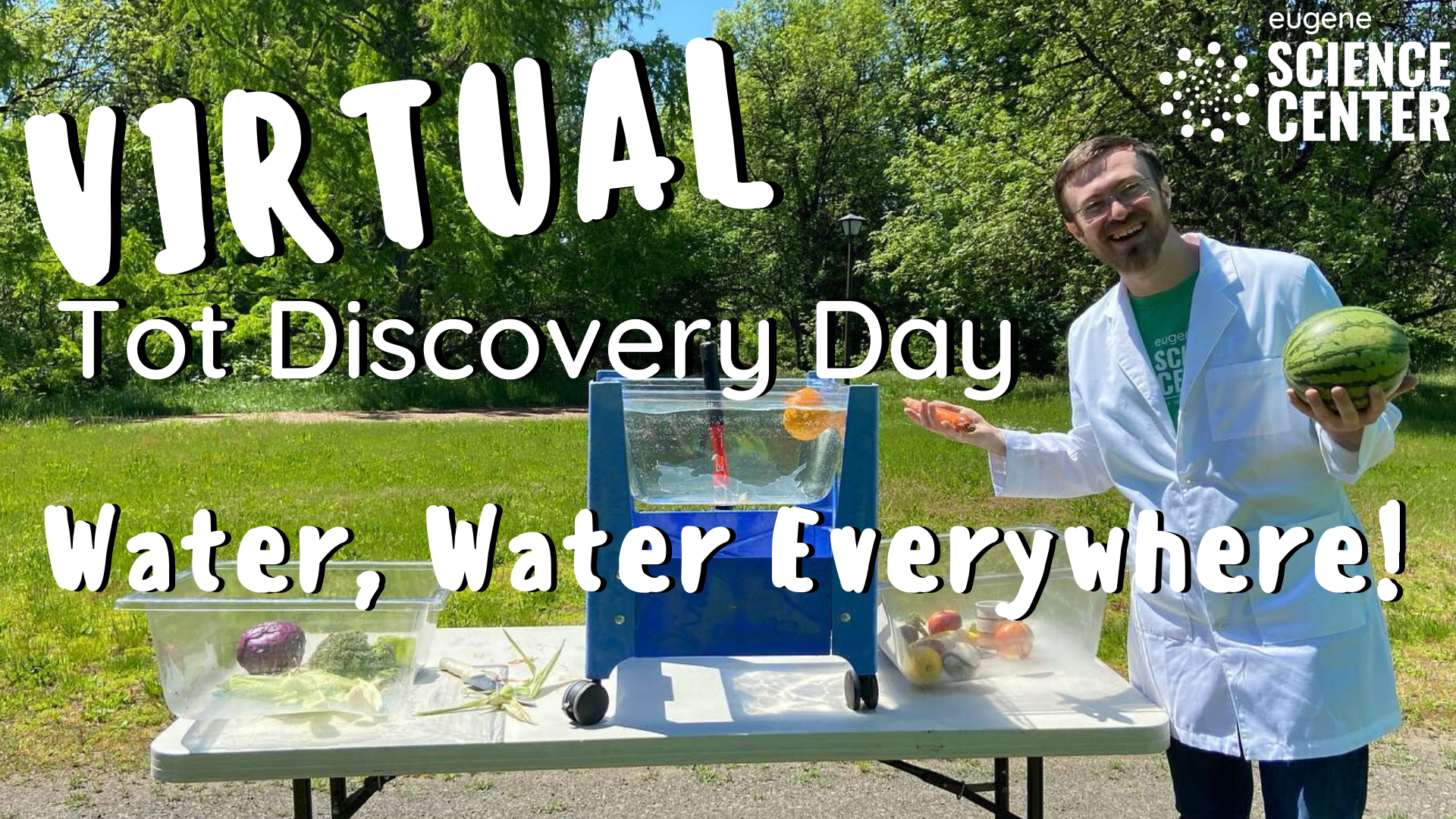 Eugene Science Center Virtual Tot Day
Water, Water, Everywhere! Materials List
Each activity below has a list of materials to gather for you and your toddler to participate in our live virtual tot day experience. ESC Educators will lead each activity. Instructions will be posted online after the live event.
Water Absorption:
Cotton Balls
Paper Towels
Styrofoam
Wax Paper
Construction paper
Sponge
Napkins
Aluminum Foil
Dropper
Water
Food Coloring
Disappearing Cotton Candy:
Cotton Candy (two or three bags)
Glass
Water
Leak-Proof Bags:
Freezer Bags
Pencils (Sharpened but can be dull)
Water
Ping Pong Float:
Ping pong ball
Hose connected to water source
Skittles Experiment:
Skittles
Water
Measuring cup or other pouring container
Plate
Early S.T.E.M. Storytime
Second, Third & Fourth Fridays of Each Month
11 - 11:30 am | Ages 0-5
Immediately following 10:30 pre-K planetarium shows
March 26, 2020: While Eugene Science Center is closed to the public, follow us on facebook for virtual storytime videos and activities.
Jump start your preschooler into S.T.E.M. (Science, Technology, Engineering, and Math) education with the Eugene Science Center's new storytime. Join us for a story and hands-on activity designed for early learners. Each storytime is a unique expansion of the Tot Discovery Day theme from the first Friday of the month.
Early S.T.E.M. Storytime is included with general admission.