Virtual Tot Discovery Day
May 8, 2020 @ 11:00 am

-

12:00 pm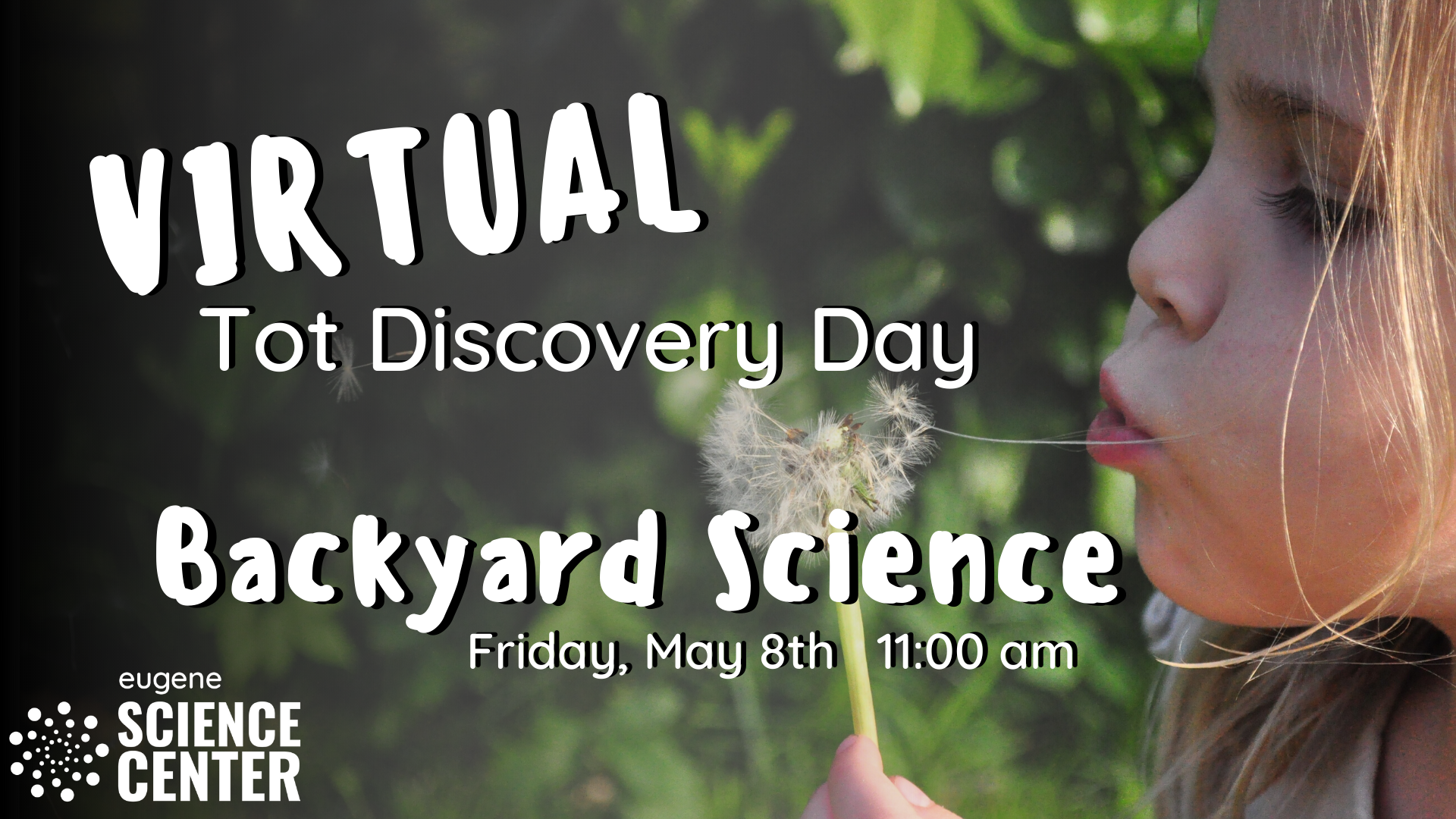 Check out the video recording for Backyard Science Tot Discovery Day!
Join us from home for a very special virtual Tot Discovery Day. We've prepared 7 activities you can try from home, as well as a special planetarium presentation. Our educators will demonstrate how to turn household materials into fun science activities for your tot!
We've provided a list of materials you can gather in advance and then follow along at home during a live recording – streaming on facebook live this Friday at 11:00am. Can't find the suggested materials? Some are easily substituted with similar items you already have.
After the live event, we will post written instructions online for each of the activities. The live recording will also be available to view after the event.
You can share photos or videos of your experiments with other families on the facebook event page or using #eugenesciencecenter.
Eugene Science Center Virtual Tot Day
Backyard Science Materials List
Each activity below has a list of materials to gather for you and your toddler to participate in our live virtual tot day experience. ESC Educators will lead each activity. Instructions will be posted online after the live event.
Milk Fireworks:
Milk
Food Coloring (Few different colors)
Dish Soap
Cotton Swab
Container
Nature Rubbings:
Nature Materials (sticks, rocks, leaves, blades of grass, flowers).
Paper
Crayons (with paper off)
Paper Bag Kites:
Paper lunch bags
Hole punch
Yarn
Sturdy string
Food Sink or Float:
Clear Container to hold water
Apples, grapes, veggies, rocks, ping pong ball, tennis ball
Bubble Tunnel:
Small Toy Car
Long tray or table
Bubble solution (mix dish soap and water or use premade bubble solution)
Bubble wands
Backyard Sundial:
Pencil
Ball of Playdough
Medium sized rocks
Sunshine
 Backyard Science Activity Instructions 
Backyard Sundial (This setup will take multiple hours to set up on a sunny day):
Pick a spot in your backyard or around the outside of your house that gets a lot of sun. 

Pick a period of a 4-5 hours your tot will be most active (Yes, you can actually set up the sundial for an entire day). 

Create a makeshift sundial by sticking your pencil eraser side down in your ball of playdough so that it sticks straight up.

At the top of an hour (11am for example), place the sundial out in the place you picked. Mark the end of the shadow it creates with a rock. 

An hour later, go out and mark the spot where the shadow of the dial has moved to. Repeat this process until you mark the period of time you want. 

Go out each day with your tot and help them tell what time of day it is.
Milk Fireworks: 
Pour milk into your container, just enough to cover the bottom. 

Place a drop or two of each color of food coloring into the center of the milk. 

Dip your cotton swab into the dish soap. 

Put the dish soap soaked end of the cotton swab into the center of your milk (where the food coloring is). 

Watch what happens!
Food Sink or Float: 
Pick up the food item you want to test. 

Let your tot hold the item and ask if it is light or heavy. 

Ask your tot if they think the item will sink or float. 

Allow them to hold the item over the tub of water and drop it in. 

Ask your tot what happened.

Repeat the process until all the items have been tested. 
Nature Rubbings: 
Place the blank sheet of paper over the nature object you want to create a rubbing from. Try and make it as flat as possible. 

Pick up a crayon (make sure the paper wrapping is off) and press it firmly on its side on the paper and rub back and forth over the object. 

You should see the object take shape on the paper
Paper bag kites (choose a windy day to fly): 
Cut a rectangular hole in the bottom of your paper bag, leaving about a ½ inch of intact paper bag around the hole.

Cut four (4) strips of tape. Use these strips to reinforce the top corners of your paper bag. This will be where you punch your holes.

Use your hole punch to create four (4) holes at the top of your paper bag, one in each corner of the bag where you placed the tape. 

Cut two (2) pieces of string, 30 inches each.

Tie one string through two holes to create a loop. Do the same with the second string and the other two holes.

Cut a third piece of string roughly a yard (36 inches) long.

Tie the third string through both of the previously made loops to create a long handle for your kite.

Paint and decorate your kite however you like. Be sure not to put too many heavy accessories/decorations or else your kite will have a hard time getting off the ground. 
Bubble Tunnel: 
Ready your bubble wand with bubble solution. 

You might have to help your tot with this. Blow a bubble onto the tray so that it sticks. You can add a small amount of bubble solution to the tray itself to help it stick. 

Now dip the toy car into the bubble solution.

Push it towards the bubble and watch what happens (it should go right through the bubble without popping).

Now you can get creative and try and make a giant bubble or link multiple bubbles together to make a longer tunnel.