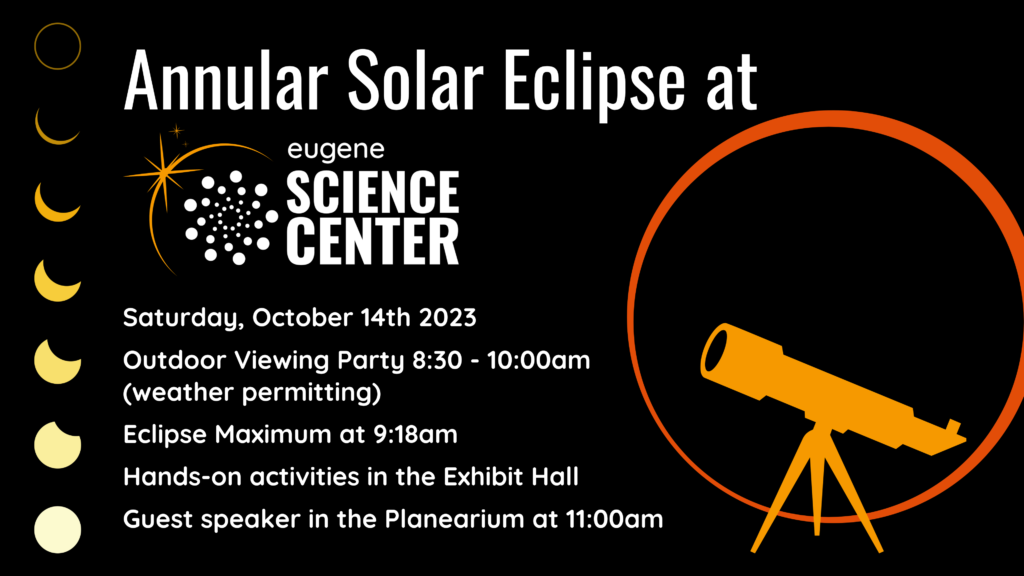 Saturday, October 14th | 8:30am – 12:00pm
Visit Eugene Science Center on Saturday, October 14th for the 2023 Annular Solar Eclipse!
Eugene is directly in the path of annularity and onlookers will be able to see a "Ring of Fire" eclipse using protective gear like eclipse glasses.
Join ESC staff out in our Northeast field along with the Eugene Astronomical Society for a special viewing party!
Learn about the difference between a "Total" and "Annular" solar eclipses, try hands-on activities, and peer through our solar telescope!
The viewing party is FREE to attend and will go from 8:30am to 10am. Eclipse maximum is at 9:18am, so don't be late!
Afterwards, we will have special hands-on activities in the Exhibit Hall and a guest speaker starting at 11am in the Planetarium, included with General Admission!