Friday, December 8th at 8:00pm / December 15th at 7:00pm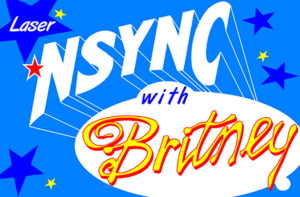 50 MINUTES

Laser NSYNC with Britney is a power pop combo from the 90s that blasts laser fun onto the dome. This Laser show displays some iconic songs from Britney Spears such as Oops, I did it again, as well as top hits from NSYNC such as Bye Bye Bye and Gone, paired with our dazzling laser lights.
Advance general admission ticket sales are available for all evening laser shows. Click here for the December 8th, 8:00pm show or Click here for December 15th, at 7:00pm to purchase your tickets in advance. For advance tickets for seniors ages 62+ or ESC members, enter the Coupon Code "senior62" or "membershow" during checkout or call us at (541) 682-7888.
Please be advised that laser shows contain bright, sometimes flashing lights and loud music. This experience is not recommended for guests who are highly sensitive to light and noise.
Please note: all laser shows start on time and no late seating is permitted. Our show schedule is subject to change. We recommend checking our calendar before your visit for the most up-to-date schedule. Click here for planetarium admission prices and more info.